Terrace and walkway
From the museum it is possible to access a long section, about 350 metres, of the wall's parapet walk, an integral part of the museum's educational itinerary. The walk consists of a covered gallery, punctuated by ten towers, which ends with a high open walkway, which offers shelter to the blackbirds.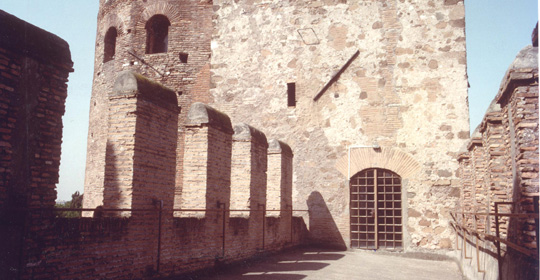 Included in the Museum visit:
 1 – the terrace above the central body of the gate, between the two towers, which offers a central view along the route of the Via Appia Antica, overlooked by its numerous blackbirds;
 2 – the terrace at the top of the west tower, rendered secure and accessible to the public with the restoration work for the 2000 Jubilee. From here the visitors can feast their eyes on a 360 degree view: the outline of the Castelli Romani hills is recognisable in the background, and closer the path of the walkway connected to the museum can be seen, winding its way through the verdant countryside.
The Walkway
Masonry from the age of Honorius (early fifth century AD) is conserved along the walk, with arrow-slits for the archers within the niches, and huge open arcades opening out onto the city side of the wall, as well as staircases inside several of the towers which used to lead to the command rooms above, no longer in existence. Restoration work from several of the subsequent eras, from Medieval times to the XIX century, is visible, and can be distinguished by the various types of construction technique, or by the transformation of some of the wall structure, after parts of the wall collapsed in the course of the centuries. The squared arrow-slits dating to 1848 can also be seen, the result of transformations to adapt them for artillery during the gun battles of the Roman Republic.
Leaving the third tower on the walkway the remains of the original floor should be particularly noted: a central crevice marks the line where the Aurelian structure and the enlargements made by Honorius meet; above in the lunette of the tower's exit bay is a picture of the Madonna and Child, a reminder of the tower's use as a hermit's retreat, perhaps in the Medieval period.