Editorial
On the evening of the 15th April 2001 occured the collapse of a substantial section of the Aurelian Walls in the stretch between Porta S. Sebastiano and Via Cristoforo Colombo; a section 12 metres long, between towers 7 e 8. In consequence, the entire 400m walkway, running from the Museum of the Walls to the arched openings of the Via C. Colombo, were closed to the public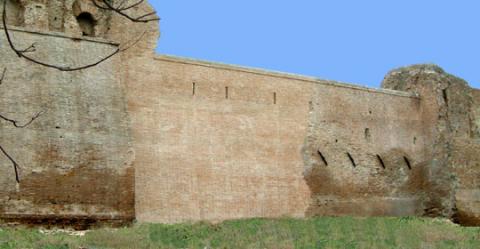 The collapse primarily involved the clay-brick curtain wall created by Innocent X Pamphili (1644-1655), which was never deeply integrated with original Aurelian and Honorian nucleus, and had become increasingly detached by the infiltration of rain water, causing the slippage and collapse of the Seventeenth century wall.
The coat of arms and inscription placed on this section of the clay-brick curtain wall to commemorate the restoration work of Innocent X were taken to the Museum after the collapse.
The conservation, development and restoration of the Aurelian wall circuit and the restoration works that need to be implemented, constitute a reason for great attention from the Municipal Administration, which, with an initial grant, from 2004 to 2006 was able to carry out reconstruction work in the collapsed section and restoration of the wall fabric as well as urgent strengthening work. As a result the entire "walkway on the walls" reopened to the public in July 2006, as a fitting conclusion to the Museum's educational itinerary.
Paola Virgili Officer for Monuments and Archaeological Areas of Suburbio